About
Ladislav Pazdera was born in Eastern Bohemia, in the city of Pardubice in 1989. He learned to play the violin first, then the viola, and at the age of 12, he switched to acoustic guitar. After graduating from conservatory in his hometown, he moved to Dresden to study at the university with Reentko Dirks, known from the band 'Massaa', and other influential guitarists like Thomas Fellow and Stephan Bormann.. On his musical journey, Ladislav was met with success at various competitions, such as the international competition Guitar Across Style in Prague. Additionally, various concert tours took him to many European countries.
Ladislav grew up at the time when strict genre division became redundant. The spectrum of styles he manages to cover on his acoustic guitars ranges from masterly fingerstyle technique to jazz. His play is influenced by traditional sounds from Andalusia and Eastern Europe to Arab regions while incorporating the airiness of Brazilian music and the all-out precision of classical music.
Ladislav has earned remarkable reputation in recent years. Especially since he plays the freltess guitar, unlike many fellow guitarists, that allows for quarter-tone playing similarly to the oriental lute oud. High-profile engagements, such as the one with Dresden State Operetta's Philharmonic Orchestra in 2017 or the one with Pardubice Philharmonic Orchestra in 2014 are a testimony of his quality, further asserted by positive reception in relevant media. For example, multiple reviews of the album … |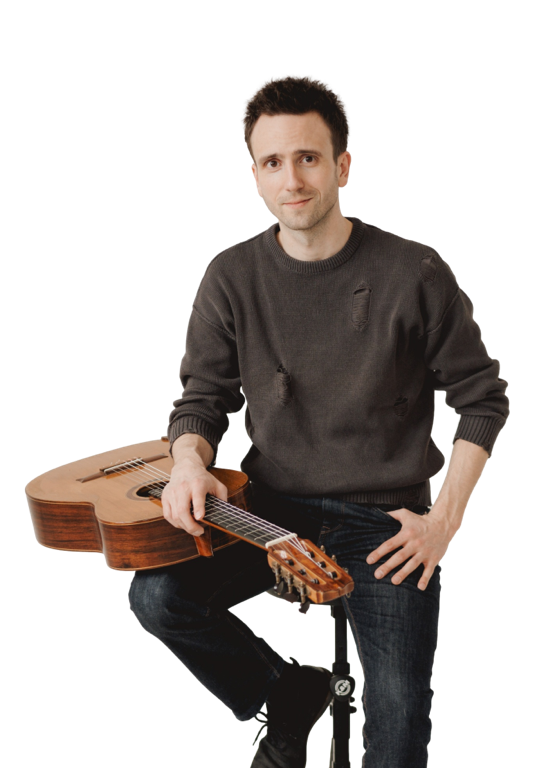 My products
To order my latest CDs or scores of my composition, please send me a message via the contact form down below.
Show me all